Polkadot is an experimental project that aims to create a framework of interoperable decentralized applications. However, due to the complexity and hype surrounding this ambitious goal, many people are still struggling with understanding what it has in store for them. After all, how can you invest when there's no way of knowing if your investment will lead anywhere? This article looks at the various liquidity solutions being proposed on Polkadot as well as their potential impacts on investors.
The "polkadot ecosystem 2021" is the first iteration of a new type of blockchain that will be able to support different types of blockchains. This means that there are many liquidity solutions for the Polkadot ecosystem.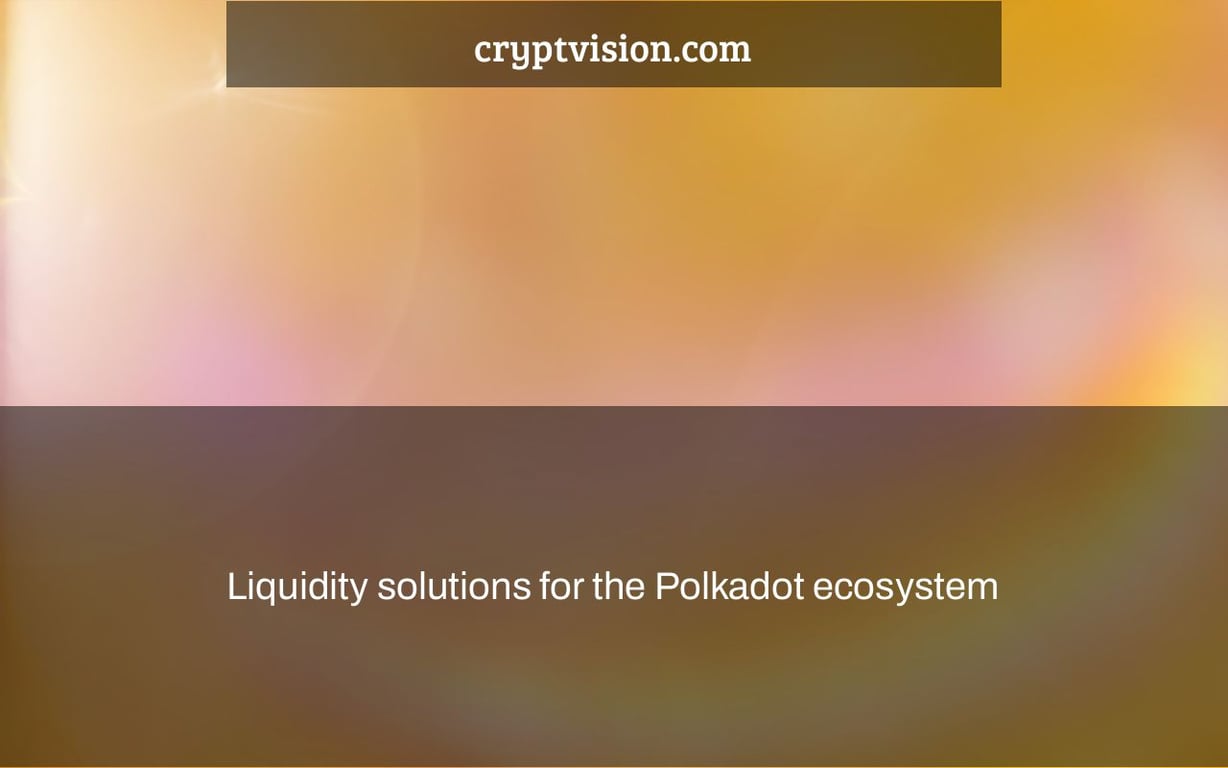 The Polkadot ecosystem is continuing growing favorably as the industry's attention shifts from the Bitcoin scaling challenge to the Ethereum scaling problem. With the Kusama and Polkadot parachains already up and running, whichever solution is chosen, it will address the problem of rising crypto demand coupled with inefficient underlying architecture.
During his tenure as CTO of Ethereum, Polkadot's creator, Gavin Wood, foresaw this problem and implemented numerous outstanding answers into Polkadot's underlying technological design.
Polkadot's basic design leverages a two-tier relay chain + parachain architecture to accomplish the separation of consensus security and application speed. At the same time, Ethereum 2.0 optimizes a beacon chain + fragmentation or Layer2 scheme, and this layered architecture has become a standard in the development of public chains and protocols.
The Public Chains or Protocols Liquidity Dilemma
In terms of Polkadot's underlying architecture, both relay chain consensus security and parachain resource usage have a particular stake need for DOT, and both requirements will lock DOT's liquidity at the same time. People have begun to make a trade-off between getting income via the Staking method and gaining revenue through DeFi since DeFi's popularity. The former, via the Staking mechanism, preserves the underlying network agreement, while the latter is the unavoidable ecological growth path. As a result, all public chains must examine how to manage the rivalry between the two in order to prevent losing money to the other. It's a question that all public blockchains should think about. Lido, Bifrost, Acala, Stafi, and others are some of the answers to this liquidity issue.
Meanwhile, Lido has gradually added support for Terra, Solana, and other prominent public chains, and will soon include support for the Polkadot ecosystem.
What will happen to the parachain's locked liquidity?
Let's start with the Polkadot ecosystem and discuss how to solve the liquidity problem in the parachain auction process.
After the relay chain has ensured network security, the project owner may bid for the right to access the parachain's resources. Polkadot provides a method called Crowdloan since the project owner has to hold a significant quantity of DOT/KSM to be successful, which is impossible for most projects. The project owner may collect DOT/KSM from users using this approach, and project owners can raise DOT/KSM from users to compete for parachain resources. It significantly minimizes the liquidity issue.
A similar problem emerges once again. Each parachain is programmed using a DOT/KSM variable. As more DOT/KSM are locked in, the liquidity of DOT/KSM will dwindle, severely limiting the expansion of the Polkadot ecosystem.
With the development of DeFi, which offers users with powerful asset management capabilities, demand for DOT/KSM liquidity may well outstrip demand for staking rewards.
The Polkadot ecosystem's current liquidity solutions
There are now three major solutions for this liquidity issue:
Acala
In the Polkadot ecosystem, Acala is a well-known project dedicated to functioning as a decentralized financial center and stablecoin platform. The cross-chain multi-asset collateralized stablecoin system, liquidity release protocol, DEX trading platform, and prophesy machine are the four primary business aspects of Acala. Acala is also a smart-contract platform.
To tackle the liquidity issue, Acala creates a derivative asset called LDOT that releases the liquidity of the pledged platform token (its prior network Karura corresponds to LKSM). The proposal also leverages LDOT as collateral in the stablecoin system, provides liquidity support via DEX, and empowers the derivative asset by combining these two approaches, resulting in L assets with sufficient liquidity.
A promise certificate can be generated by several liquidity release mechanisms we've observed. For instance, in Lido, the promise certificate for ETH is named stETH, while in Stafi, the pledge certificate for DOT is called rDOT.
Through its well-run initial network, Karura's goods, we may learn about its operation model. The following product mostly comprises the previously described fundamental functionalities, such as mint kUSD, DEX swap, and Liquid staking.
At the moment, the liquidity pledge solely supports the promise of KSM and the unpledged LKSM. The promised KSM isn't utilized to keep the underlying consensus secure, and it's also not used to bid on parachain spaces. As a result, LDOT or LKSM is more akin to an encapsulation layer, similar to the distinction between ETH and WETH. As a result, Acala does not appear to be a comprehensive solution to the liquidity issue.
Acala now has 213,000 Twitter followers and 36,000 Telegram followers. Acala was the first parallel chain to be nominated to Polkadot, demonstrating its widespread popularity. Acala's initial network, Karura's token KAR, is worth $81 million on the mobile market, while the Polkadot token ACA is not yet in circulation.
Bifrost
Bifrost is a DeFi protocol that specializes in the release of pledged assets' liquidity. Bifrost manages the ETH 2.0 staking liquidity release business and provides a liquidity release service for Polkadot and Kusama slot bidding.
Users that stake using Bifrost earn staking income and derivative assets, which may be exchanged, transferred, and used in a variety of DeFi activities. Derivative assets can be exchanged for a percentage of the original assets and earn Staking proceeds, which is an interest-bearing asset.
Since Crowdloans have become such an important part of the Polkadot ecosystem, Bifrost has evolved into a key Crowdloan gateway, and Bifrost's liquid Crowdloan solution now supports both Kusama and Polkadot.
In terms of the exact implementation technique, the slot auction process has variable lease lengths and prizes. They will create a large number of tokens with varying levels of equity. The Bifrost method separates token asset qualities from equity asset attributes and creates two derivatives: vsToken (Voucher Slot Token) and vsBond (Voucher Slot Bond) (Voucher Slot Bond).
vsToken (vsDOT/vsKSM), in particular, is a fungible token and a pledge credential for the user, reflecting the user's asset attribute in the parachain bidding tokens. vsBond is a non-fungible currency that represents the various equity features of the user's slot lease cycle as well as bidding incentives for parachain support.
vsDOT/vsKSM may be sold using this approach without impacting parachain rewards.
Bifrost has set up a liquidity pool in Zenlink's DEX to solve the liquidity problem of vsKSM, and by adding liquidity to Zenlink and pledging LP on the official website, a very high yield can be obtained. The liquidity of the vsBond is addressed via an order book that is open for buy and sale on the official website (vsBond is a non-fungible token, and the order book method is more effective). As demonstrated in the diagram below, the order book is more efficient.
When depositing DOT/KSM on Bifrost's liquid crowdloan platform to support a project, four assets are available: Bifrost's derivative assets vsToken and vsBond, Bifrost native token BNC, and project side token rewards.
Bifrost presently has 170,000 vsKSMs and 1.23 million vsDOTs in circulation. The Bifrost ecosystem now has approximately $150 million in assets locked up, thanks to support for ETH 2.0 and liquidity on the DEX.
Because Bifrost only has one leading network, the BNC coins created today will be available on both the Kusama and Polkadot networks. After achieving parachain status on Kusama, Bifrost's next goal is to get parachain status on Polkadot.
There are presently 79,000 Bifrost Twitter subscribers, approximately 30,000 Telegram members, and a market value of $17.25 million for the mainnet coin BNC.
Financing in the Dark
Parallel Finance, based on the Polkadot and Kusama blockchains, is a decentralized cryptocurrency exchange. A mechanism designed to improve the Polkadot/Kusama ecosystem's liquidity. Due to the increased popularity of DeFi, there is a higher demand for lending to Polkadot/Kusama asset holders (e.g., DOT/KSM). As a result, Parallel Finance is built to handle three primary functions: borrowing, lending, and crowdlending.
Parallel, like Bifrost, enables token holders to deposit their assets into Parallel Finance's account in exchange for a "voucher" asset, known as a c-asset in Parallel, which is equivalent to cDOT and cKSM.
When you use Parallel's crowdloan function to support a project, you will get three sorts of tokens:
Tokens for the Parallel platform as a reward
A little prize for the project's creator.
For derivative assets and project assets, there is an LP asset.
In Parallel's core module, there is a lending mechanism where users may deposit their cDOT/cKSM assets in order to earn extra income. Furthermore, cDOT/cKSM may be utilized as a kind of collateral for financing. Furthermore, since cDOT is linked to the project tokens' liquidity in the form of LP, the derivative assets on Parallel are also subject to some liquidity constraints.
The platform has generated $550 million in total liquidity by issuing 21.34 million DOTs and 57.3 million KSMs. Parallel is also one of the five Polkadot parallel chains now in use.
Parallel has 53,000 Twitter followers and 8,000 Telegram followers, however its tokens on both networks are now unavailable.
The following table compares the three projects' current stages of development:
Conclusion
The Polkadot ecosystem is still in its early stages of development. The popularity of DeFi has enhanced consumers' liquidity demands for assets, despite the fact that there aren't as many executable instances as Ethereum and other big public chains.
The liquidity problem with Polkadot's system structure is a little more difficult, since this liquidity is present in both the main chain token pledge procedure and the slot auction.
Existing solutions are proactive, releasing liquidity via derivative assets on the one hand and enabling derivative assets to increase liquidity through various methods such as lending, trading, and pledging assets on the other.
The Polkadot ecosystem is projected to grow quickly as the liquidity release mechanism is improved and the threshold and restrictions to engaging in the bidding of Polkadot slots are reduced. The lock-up scale of liquidity solutions will be strengthened as the ecosystem grows. A massive network effect may be established to capture the rewards of the Polkadot ecological growth if the scale is big enough.
Polkadot, Parachains, Polkadot, Polkadot, Polkadot, Polkadot
Newsletter
The most relevant daily news in the worlds of crypto, DeFi, NFTs, and more are summarized here.
Gain a competitive advantage in the cryptoasset market.
As a premium Edge member, you'll get additional crypto insights and context in every story.
Analyses of the whole chain
Snapshots of prices
a little more context
For just $19 a month, you can become a member right now. Examine all of the advantages.
Watch This Video-
The "polkadot stablecoins" are a solution to the liquidity problem in the Polkadot ecosystem. They allow for a stable value that is not tied to any one currency, and can be used as collateral for other tokens.
Frequently Asked Questions
Is Polkadot an ecosystem?
A: Yes. An ecosystem is a community of living organisms interacting as one for the benefit of all lifeforms in its environment.
Is Polkadot undervalued?
A: Im sorry, but if you want to know whether or not Polkadot is undervalued with respect to other cryptocurrencies on the market today, then it will take more than a few seconds for me answer this question. As such, please ask something simpler like whats your favorite cryptocurrency?
Does Polkadot have DEX?
A: No. Polkadot does not have DEX, since it is a public blockchain and decentralized network of networks that requires no intermediaries to create blocks or verify transactions – making it impossible for any individual entity to control the system..
Related Tags
polkadot ecosystem nft
crypto related to polkadot
coins similar to polkadot
what is built on polkadot
polkadot coins on binance